Butler's Quality Contracting Ltd. is a leading-edge custom home builder, renovator and general contractor servicing St. John's, NL and surrounding communities.  
Whether it's on your own land or on their land, Warrick Butler and the team at Butler's Quality Contracting provide a home building and home renovation process that is highly professional and personalized to meet the specific requirements of each homeowner.
From a starter home to executive style to multi-unit, Butler's has built and renovated over 100 homes ranging from 900 to 15,000 square feet.  Whatever the size, Butler's appreciate the level of investment that is required for a new home construction or home renovation project and they remain competitive in the market. 
Please take a few moments to familiarize yourself with Butler's full range of Services.
They also truly appreciate the level of trust an owner places in their home builder, and for this Butler's deliver award winning results!  Butler's Quality Contracting recently received its third Customer Choice Award from the Atlantic Home Warranty program.  A true testament to the level of service you can expect from the entire Butler's team.
Shown below, Warrick Butler is presented with the 2018 Customer Choice Award from Cindy Locke of the Atlantic Home Warranty program.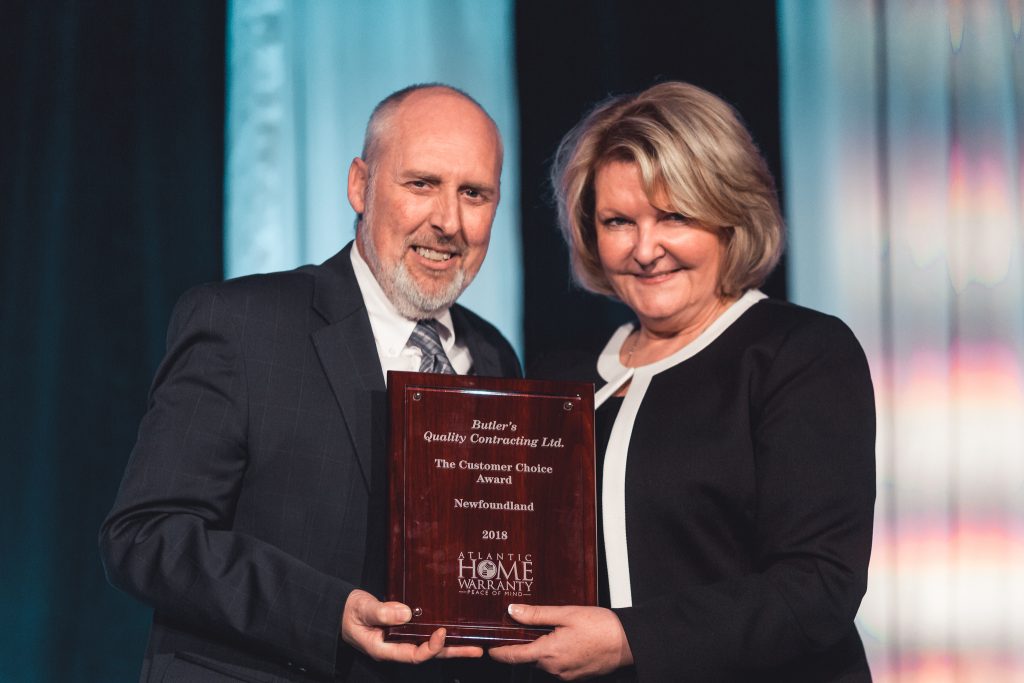 Butler's is also an active member of the Canadian Home Builders' Association of NL and have been awarded many prestigious new home and home renovation awards through the years.
Please visit the Achievements page to learn more about Butler's various awards and accolades.
"Warrick is a credit to the construction business.  His professionalism, quality of construction and most of all his caring for our home was evident from day one...excelled in all areas...attention to detail was outstanding."

Les and Joan O'Reilly, Paradise, NL
Please visit the Testimonials page to see what more of their clients are saying.
Butler's services are based on the traditional values of honesty, reliability and integrity. The products they deliver are a result of employing modern technology in their planning and home building projects; and a team skilled in the use of the latest, high-quality products and home building and renovation innovations.  
Thank you for visiting.  Please take a moment to check out the rest of the site.